I recommend this important piece by @dawn_ in @commune_mag which was written before COVID but it tells a story https://t.co/cCz7NZktrd
@GregGrandin *he...he retired in 2002 but I'm sure he would have *loved* working with me
@GregGrandin Wow...I've heard stories of him being paranoid when we taught at ASU as a result of his Colombian connex
@Alexander_Avina Tambs was more deeply involved in Contra than I write about here. He was the bridge between Colombia and Central America, serving as Reagan's ambassador to first Colombia and then Costa Rica, where he helped build airfield used by Colombian Narcos supplying contras.
Tambs worked in the oil industry, 1st for Standard before moving to Venezuela in the 50s; got a PhD in LatAm history in 60s; worked w/ Oliver North to help org Contras operating from Costa Rica in the mid-80s vs Sandinistas. So he actually fulfilled original aims of area studies?
(From @GregGrandin's "Empire's Workshop")
Go Sun Devils! 🤣🤣
Twitter feed video.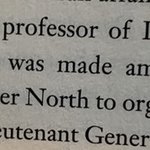 Load More...