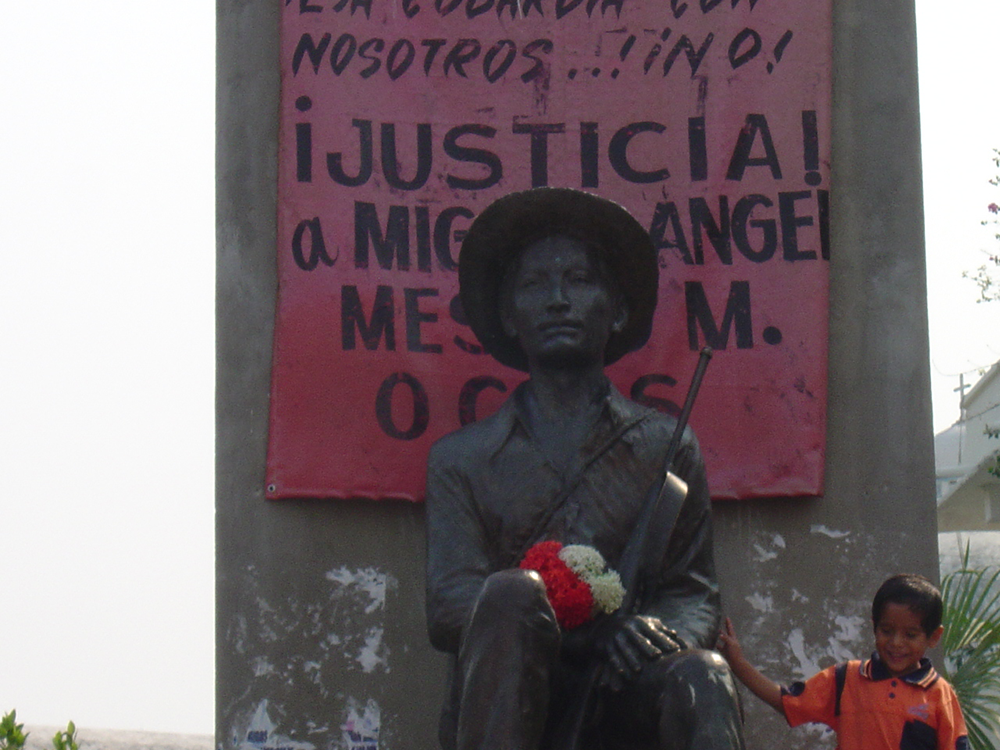 ---
Specters of Revolution: Peasant Guerrillas in the Cold War Mexican Countryside (Oxford University Press, 2014)
*Awarded the María Elena Martínez Mexican History Book Prize as the top book on Mexican history published in 2014, (awarded January 2016) https://global.oup.com/academic/product/specters-of-revolution-9780199936595?lang=en&cc=us
A War Against Poor People: Dirty Wars, Narcotics and the Cold War Roots of Mexico's Contemporary Drug Violence (in progress)

---

Digital Projects (Peer Reviewed)
"Violence Takes Place" Series, Co-Editor, Noria Research Collective, Mexico and Central America:
https://noria-research.com/mxac/violence-takes-place/
"Guerrilla Movements and Armed Struggle in Cold War Mexico," Oxford Research Encyclopedia of Latin American History, ed. William Beezley (Oxford University Press, 2017) (Published, June 2017)
http://www.oxfordreference.com/abstract/10.1093/acref/9780190680893.001.0001/acref-9780190680893-e-387?rskey=AjCcSy&result=33 – acref-9780190680893-e-387-div1-1

"The New Left in Latin America (Annotated Bibliography)," Oxford Bibliographies Online:
Latin American Studies (Oxford University Press, 2011).
http://www.oxfordbibliographies.com/view/document/obo-9780199766581/obo-9780199766581-0040.xml
---
"The Border is a Monster, Growing, Feeding on Itself:" War, Empire and Migrants in the US-Mexico Borderlands," Dve domovini/Two Homelands Journal (forthcoming 2022)
"'They Say the Bones Talk:' Enforced Disappearances and the Archives of State Terror in
Past and Present Mexico" (in progress)
"'El Norte Chiquito:' A Local History of the Mexican Narco-State in the Guerrero Hotlands," Development and Change (in progress)
"'Are you with the Rich or the Poor?' The Making of a Poor People's Revolution in Cold War
Mexico," Histoire@Politique (Centre d'historie de Sciences Po, Paris) (Published Spring
2018)
https://www.histoire-politique.fr/index.php?numero=34&rub=dossier&item=322
"Mexico's Long Dirty War," NACLA Report on the Americas 48:2 (Summer 2016), 144-149.
https://www.tandfonline.com/doi/abs/10.1080/10714839.2016.1201271

"State Anxieties, Campesino Guerrillas, and an Archive of Counterinsurgency in Cold War
Mexico," Journal of Iberian and Latin American Research 19:1 (July 2013), 41-51.
https://www.tandfonline.com/doi/full/10.1080/13260219.2013.805719
---
"Group Blood: Drugs, Death Squads and the Dirty War Origins of the Mexican Narco-State,"
in Drugs, Politics, and Society: The Regional History of the Mexican Drug
Trade, eds. Benjamin Smith and Wil Pansters (in progress).
"Guerrilla Movements and Armed Struggle in Cold War Mexico," The Oxford Encyclopedia of Mexican History and Culture, ed. William Beezley (New York: Oxford University Press, 2019): https://global.oup.com/academic/product/the-oxford-encyclopedia-of-mexican-history-and-culture-9780190680893?cc=us&lang=en&
"A War Against Poor People: State Terror and Mexico's War on Drugs during the Global Sixties," in México Beyond 1968: Revolutionaries, Radicals and Repression during the Global Sixties and Subversive Seventies eds. Jaime Pensado and Enrique Ochoa (Tucson: University of Arizona Press, 2018): https://uapress.arizona.edu/book/mexico-beyond-1968 https://uapress.arizona.edu/book/mexico-beyond-1968
"Seizing Hold of Memories in Moments of Danger: Guerrillas and Revolution in Guerrero,
Mexico," in Challenging Authoritarianism in Mexico: Revolutionary Struggles and the
Dirty War, 1964-1982, eds. Fernando Calderón and Adela Cedillo (London: Routledge,
2012).
https://www.routledge.com/Challenging-Authoritarianism-in-Mexico-Revolutionary-Struggles-and-the/Calderon-Cedillo/p/book/9780415889049
"'We have returned to Porfirian Times:' Neo-Populism, Counterinsurgency,
and the Dirty War in Guerrero, Mexico 1969-1976," in Populism in 20thCentury Mexico:
The Presidencies of Lázaro Cárdenas and Luis Echeverría, eds. María L.O. Muñoz and
Amelia Kiddle (Tucson: University of Arizona Press, 2010).
https://uapress.arizona.edu/book/populism-in-twentieth-century-mexico
---
Review of Jessica Kim, Imperial Metropolis:  Los Angeles, Mexico and the Borderlands of American Empire, 1865-1941 (University of North Carolina Press, 2019), for H-Diplo (February 2021). 
Review of Marian Schlotterbeck, Beyond the Vanguard:  Everyday Revolutionaries in Allende's Chile (University of California Press, 2018), for H-LatAm (May 2019). 
Review of Carlos Illades, Conflict, Domination and Violence: Episodes in Mexican Social History (New York: Berghahn Books, 2017), for the Bulletin of Latin American Research 38:2 (2019), 261-262.
Review of Javier Valdez Cárdenas, The Taken: True Stories of the Sinaloan Drug War
(University of Texas Press, 2017), for Mexican Studies/Estudios Mexicanos 34:3 (Fall 2018), 405-408.
Review of Joseph Lenti, Redeeming the Revolution: The State and Organized Labor in Post-
Tlatelolco Mexico (Lincoln: University of Nebraska Press, 2017) for The Journal of
Interdisciplinary History 49:1 (Summer 2018), 168-170.
Review of Gladys McClintock, The Logic of Compromise in Mexico: How the Countryside Was
Key to the Emergence of Authoritarianism (Chapel Hill: University of North Carolina Press, 2015) for Canadian Journal of Latin American and Caribbean Studies 42:1 (2017), 107-108.

Review of Randall Sheppard, A Persistent Revolution: History, Nationalism, and Politics in
Mexico since 1968 (Albuquerque: University of New Mexico Press, 2016) for The Hispanic American Historical Review 97:4 (Winter 2017), 754-755.